Orthopedic Physical Therapy Great Neck
The clinicians at Marathon Physical Therapy are highly trained in the evaluation, treatment, and prevention of orthopedic and sports injuries. We provide care based on the current best evidence and use state-of-the-art rehabilitation equipment to facilitate a rapid recovery for even the most involved patients.
We know that getting patients back to their active lifestyles is a top priority, and that physical therapy here at Marathon Physical Therapy is a great first step in the process.
Experience and cutting-edge modalities, that used to be only available to professional athletes, are now available to the community members we serve. We take pride in providing one-on-one attention, in a warm and caring environment, to each of the patients that come through our doors.
We see a variety of patients each with their own specific needs, daily demands, and personal goals. That's why we take the extra time to provide a customized program to each new patient we see.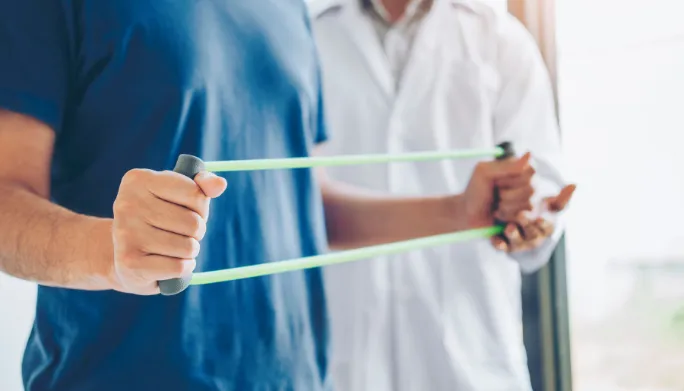 What is orthopedic physical therapy?
Orthopedic physical therapy is the treatment of your entire musculoskeletal and nervous system.
Bones
Muscles
Ligaments and Tendons
Joints
Connective tissue
A PT with a specialization in orthopedics will evaluate you and diagnose any issues or conditions. This includes:
Diagnosis of the correct movement
Making a treatment plan
Therapeutic care
We will educate you on how to manage your injury or condition so that you don't get infected again.
Orthopedic physical therapy can be provided at outpatient clinics and hospitals, as well as in skilled nursing facilities, sports facilities, or even in your own home.
What to Expect from the Orthopedic Physical Therapist
It can be intimidating to begin any type of treatment. Orthopedic physical therapy is no exception. Knowing what to expect from your sessions and treatment is a huge help.
Before you start a relationship with a therapist, it is important to verify their credentials. Only therapists who have successfully completed an orthopedic specialist program can be considered experts in this field. Sometimes, non-specialized physical therapy therapists can still practice some elements of orthopedic physical therapy.
Your therapist will begin by performing a thorough exam. The therapist will then create a treatment plan for you.
Expect to engage in strength training and other exercises that challenge your body.
A physical therapist who specializes in orthopedics may also use instruments or tools to aid you in healing, such as ultrasounds, treadmills, and biofeedback.
A physical therapist who specializes in orthopedics will likely recommend exercises that you can do at home, and show you how to properly do them.
Treatments Used in Orthopedic therapy:
Hot/Cold Therapy
To treat musculoskeletal pain or swelling, orthopedic PTs may use both cryotherapy (cold therapy), and thermotherapy (heat treatment).
Exercises
Your therapist will design an exercise program that will likely include mobility and strengthening exercises.
Hydrotherapy
The benefits of water therapy, in a pool or whirlpool, are obvious, especially when it comes to exercise. It supports the body and reduces the impact on your joints.
E-stim (TENS/NMES)
The most effective pain management method is electrical stimulation. The therapist will attach an e-stim unit to the area that is being treated.
Transcutaneous electrical nerve stimulation (TENS), which uses a low-voltage electrical current to provide pain relief, is a form of transcutaneous electrical nerve stimulation.
Neuromuscular electrical stimulation (NMES) is a method that stimulates nerves by sending out electrical impulses. This causes muscles to contract and increases blood flow, which helps to heal them.
Neuromuscular re-education
This treatment can help regain voluntary muscle control that a patient may have lost because of atrophy, injury or other pathologies.
Soft tissue manipulation
Most likely, your therapist will use hands-on techniques to treat your muscles, ligaments and fascia. This can improve circulation, reduce swelling and buildup of fluid around an injury, ease pain and stiffness and speed up the healing of muscle strains or sprains. It may also restore range of motion.
Laser therapy
Your therapist might use light or low-level laser therapy to improve muscle performance, reduce fatigue, and repair muscle injuries after an accident.
Conditions We Successfully Treat on a Regular Basis:
Tendon/Ligament Disorders:
Sprains
Strains
Tendonitis
Tendon Ruptures
Muscle Injury / Disorders:
Muscle Bruises, Contusions
Muscle Ruptures
Muscle Contractures
Myositis
Muscle Spasms
Pain Management:
Headaches
Myofascial Pain
Neck Pain
Low Back Pain
Joint Injuries / Disorders:
Osteoarthritis
Dislocations
Subluxations
Ligament Injury
Cartilage Tears
Services We Provide in Great Neck
Post-Surgical Orthopedic Rehabilitation
Acute, Chronic Rehab
Joint Replacement Rehab
Spine Rehabilitation/Core Stabilization
Sports Injury Rehab
Request An Appointment
Please fill out this form and
we will contact you about scheduling.

Wendy Kreitzman


I have been going to Marathon Physical Therapy for several years. I know that the well trained therapists and assistants are all dedicated to helping me move towards my goal of walking as independently as possible. I am never rushed, nor pushed. I enjoy my therapy session and I am confident that I will improve with the help of such high level professionals.

Jia Z


Really love this place!! The staff and physical therapists are super friendly and professional. My daughter has Twinkle and Henry with her treatments; they are amazing and professional. They really take their time and try their best to help my daughter with her back. We have Twinkle mostly and my kids just love her!! Even though my older daughter is the patient, my younger daughter got to join in with the exercises which makes the visit more fun. And Twinkle really takes the time to explain what she does and shows me how I can help my daughter with her home exercises. We've been there just for a few weeks and I am already seeing improvements on her back. So glad we have chosen the right place. They really have a great team???? Highly recommend